Anyone know what the origins of the Witch's Sigil Wheel are? Is it one of those 'ye olde ancient traditions' that was created way back in the seventies? Not that it bothers me if it is
I'm just curious.
This is the so-called Witch's Sigil Wheel:
And this is the Hermetic Rose Cross Sigil Wheel (Hebrew and English versions).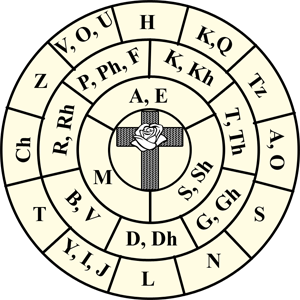 Look familiar? Well no doubt they are. Anyone got any insights into who created the Witch's one? Or where it was first put into print?
Lastly here's another one that pops up online, who's author appears to be a Chaos magickian called Rhaven