Stuffed peppers
Prep time: 1 hour, makes ~10 peppers, serves 5+
Ingredients:
*10 stuffing peppers (I used Big Jims but you can use Bell peppers, Poblanos, anything large and fleshy)
*1 cup dried lentils
(Optional: instead, use 1/2 cup of lentils with a cup of raw ground venison)
*1 cup rice
*1 cup sliced mushrooms
1 cup diced tomatoes
1 tsp thyme
1 tsp minced garlic
10 slices provolone cheese
olive oil
salt
1) Start cooking rice in a small pot on the side (if you can't cook rice then get the hell out of the kitchen
) In a medium to large skillet that has a cover, put a light dribble of olive oil, garlic, and thyme and allow to heat up to medium until sizzling. Add dried lentils, tomatoes, mushrooms, a pinch of salt, and 2 cups water. Cover and allow to simmer for 10 minutes, stirring once or twice.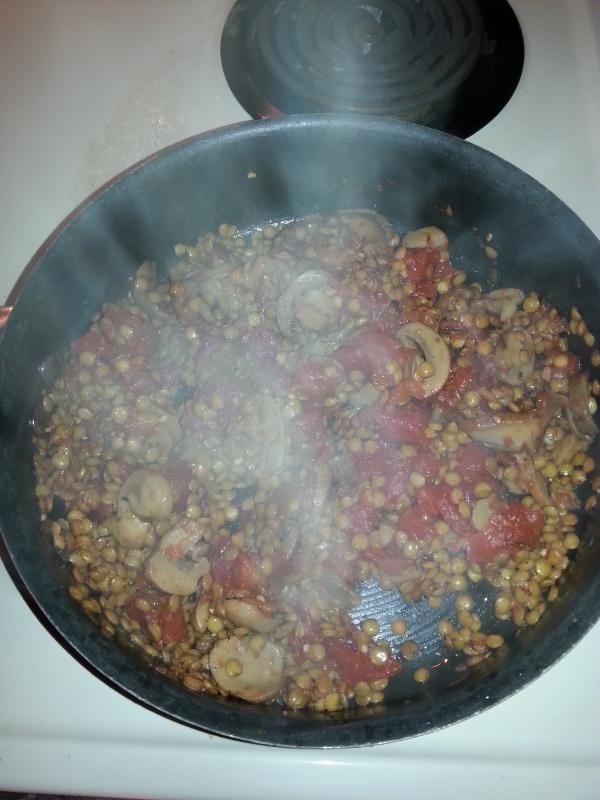 2) Begin prepping the peppers, cut off the tops and remove the seeds/spines. Check the rice, remove from heat if it's ready. After 10 minutes add 2 cups of the cooked rice to the already simmering pan and add 1 more cup of water. Stir and allow to simmer for another 10 minutes on medium/high. I also at this time add my "special ingredient" --scorpion pepper powder, which renders the food inedible to other members of the household. Preheat oven to 350F. Prepare a baking tray with oil/grease.
3) After 10 minutes remove stuffing mixture from heat. Take provolone slice, cut in half and put one half in the botom of the pepper. To stuff peppers I use a wooden spoon so I can also use the skinny end to ram it down in there. Leave some space to put the other half of the cheese slice in the top. Wrap them in foil (I didn't have any---the cheese spilled in the oven so I spooned it back in at the end). Bake for 20 minutes and remove carefully from oven. The Big Jims or Anaheims can be eaten like a burrito, or you can serve it with a fork/spoon/knife whatever.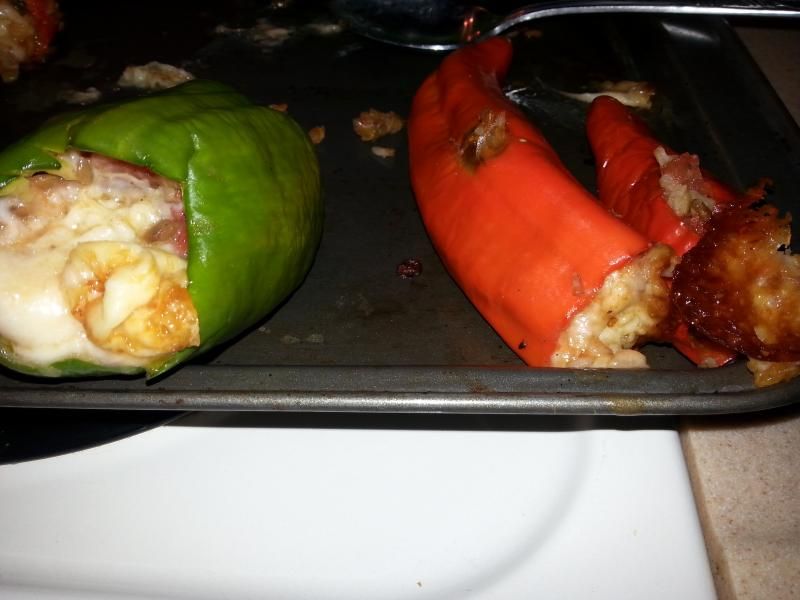 you may have some stuffing mixture and rice left over if it doesn't all fit into the peppers. This stuff works great on a tortilla.